aluminum tube sealing machine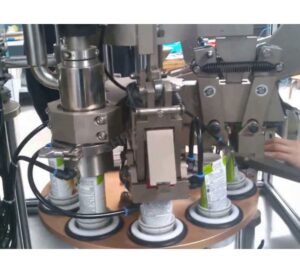 Automatic Soft Cosmetic Cream Tube Filling And Sealing Machine High Quality Manufacture  is suitable for aluminum tube filling and sealing, widely used in daily chemical products, medical products, food, chemicals, cosmetics, toothpaste and so on industries.
Items
Astra-37 Tube Filling and Sealing Machine Metal Tube Filler Sealer for Soft Cosmetic Cream
 Model
 Astra-37
 Power
 AC380/220V
 Air Pressure
 6 to 8 Bar
 Max Power
 2KW
 Productivity
 20-40 Tube Per mint
 Filling Accuracy
 ±1%
 Hopper Capacity
 6 0L
 Fill Volume
 20-160ml,  25-210ml
 Tube Diameter
 10-50mm
 Tube Length
 210mm
 Dimension
 1600*1200*2000mm  (L*W*H)
 Machine Weight
 About 950KG
 Features
·         Adopt PLC and touch screen control system, easy to operate.

·         Driving system is closed under the working table, safe and non-pollution.

·         Material contact parts used SUS304L material, easy to clean and meet with GMP requirements.

·         Filling sealing parts are installed on the working table, half-closed and transparent, easy to maintain.

·         Cam driving, high accuracy, high speed.

·         Tube orientation controlled by photocell for accurate positioning of tubes.

·         Filling nozzle used Japan sealing rings in case of leaking.

·         Changing different parts and do some adjustment can achieve 3 side folding, 5 side folding and other folding ways.

·         Automatic Printing Date on the Tube Bottom.

·         No Tube no Filling Function.

·         Automatic Counting and  E-stop.

·         (Choose) Heating and Mixing Function, Protection Cover.