sachet packing machine for powder Price
Astra-56-A,
It is an automatic selfie packing machine. You can pack this machine from 1 gram to 20 grams and from 20 grams to 50 grams and 50 grams to 100 grams in this machine you can pack fine powder Moisture should not be more than 6 percent in powder. You can add more spice powder, garam masala, meat masala, kebab masala flore, vellore, etc. What is the use of micotech technology in this machine? This is something we have copied a bit of the parts of some Germany and Japan machines, which makes this machine very powerful. It has a very good performance and is a very strong machine. This machine does not have maintenance. Hours can run in some kind of break-down chance
Applicable Range/ Spices Powder, Coffee powder, Milk Powder , 5 gms to 500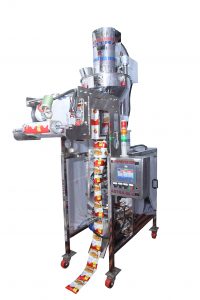 gms 
This machine can be suitable for all kinds of industries like food;medicine;cosmetic;industrial products  Spices Powder
Drying agents and medicinal Powder  products…
Astra – 56

Machine speed
15 to 50 per mint
Bag Size
(Length)30-250 mm  (Width) 100-360 mm
Film Material
Composite film/non-woven fabric/paper-plastic film
Net Weight
400KG                       Gross weight :500kg
Bag Type
Center Seal
Notch
Applicable
Voltage
AC420V Three -phase
Total Power
3.5KW
Measuring range
10gms  to 200 gms
PLC
 Schneider
Measuring Mode
 Volumetric SERVO Auger  filler ,,
Color Touch Screen
 With Full color touch screen, which makes it very easy and   convenient operation  Schneider –
Material Contacts part
Product contact part will be in SS304
Machine Material
       Steel 202,
                     Base  Country
Motor
       Bonfigliol
                     Italian
    Transducer
       marathon
                     US
Solid-state relay
        unison
                    Indian
Intermediate relay
        Omron
                    Japan
Buttons
        Schneider
                   France
Pneumatic
         festo
                    Germany
 Sensor
       Pepper + Fuchs, Data Logice,
                 Germany , US
Batch coding Machine
With Hp-L241, Make ,Make  China ,
                  China
Full Features and Functions :  
A)  This machine can be able to weight, bag-making, filling, sealing, cutting,lot number automatically.
B)   It has color control system which can get the complete trade mark design(photoelectricity control system).