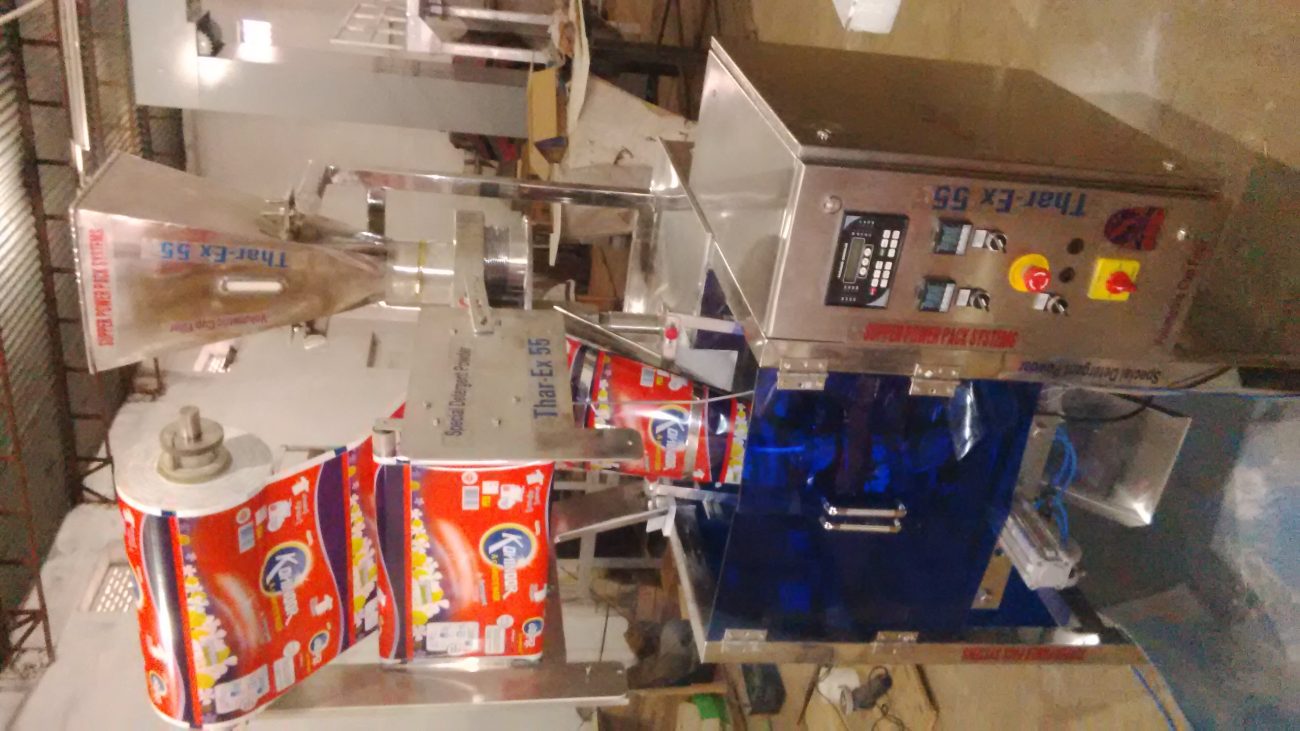 We have super power pack system and manufacturer and exporter place Jaipur India, our mini model is ASTRA- 57, made for this special Salt. With this machine, you can take 200 grams to 500 grams and 1000 grams of salt Pack. This machine we can make this mascara If we had done this, we have developed this for only because the item of iron is made by the Hard machine, then the rust flows very fast and it quickly gets spoiled because we have many companies We had standard steel 304 and aluminum HE-30, score to make this machine, the small machine made in the hard train, it comes in speed 15 to 22 per minute This machine market is India South Africa Kenya Uganda Tanzania Nigeria and the song here is a very good market This machine has a lot of demand.
Salt Packing machine Supplier Low Price,
Astra-57 Vertical Form fill Seal machine With VOLUMETRIC Cup Filler
WE REFER TO YOUR INQUIRY ABOUT THE FREE FLOW SALT PACKAGING MACHINE IN CENTER SEAL POUCHES. WE PLEASED TO SUBMIT OUR BEST OFFER AS DISCUSSED FOR THE VERTICAL FORM FILL SEAL MACHINE MODEL: Astra-57-VF(VOLUMETRIC BASED).
PRODUCT TO BE PACKED : FREE FLOW SALT (BD @ 0.9)
INDIVIDUAL PACK QUANTITY :250G, 500G AND 1000Grams (WITH CHANGE PARTS)
PACKING FILM : HEAT SALABLE LAMINATE (REQUESTED TO GIVE SAMPLES BEFORE P.O.)
PACK SIZE : TO BE SUBMITTED BY PARTY
POUCH TYPE :CENTER SEAL
BAGGER SPEED : UPTO 15 to 24 M
Note: Actual output will depends on film quality & properties. VMPL reserve the right to prove above offered outputs on suitable film at their works. Buyer to provide their film rolls in sufficient quantity to check its working at above speeds of machine. The set performance, however, is subject to the following factors:
Product properties and behavior
Constant product in-feed bulk density
Film material and properties
Proper operation & Maintenance of the packaging machine
A) TECHNICAL SPECIFICATIONS OF FFS-BAGGER MODEL Astra57
ü TABLE DRAW DOWN MACHINE (W/O PULLING BELTS).
ü Operational control of VFFS Bagger thru PLC controller, MITSUBISH- JAPAN.
ü MOC: SS304 AND ALL CONTACT PARTS ARE FROM SS316L.
ü VFD BASED motorized paper Pulling, PNEUMATIC (SMC, Japan) BASED Sealing.
ü Temperature adjustment through PID CONTROLLERS – Omron, japan.
ü Motorized Film Unwinding Mechanism.
ü Special mechanical brake for unwinding control
ü Built in Print Mark registration Device, DATALOGIC,-ITALY.
ü Air removing flaps to remove most of air from pouch.
ü Level sensor for No Product No Pouch
ü MAX. ROLL WIDTH 420 mm.
ü AIR REQUIREMENT 300 LIT/MIN. AT THE PRESSURE OF 6KG/CM2.
ü OPTIONAL ATTACHMENT: BATCH CODING DEVICE, NITROGEN GAS FLUSH, PERFORATION SYSTEM AND INFEED BUCKET ELEVATOR.
The machine requires 5HP, 415V, 50 Hz , 3 Phase, 4 Wire electrical supply and the same is to be made available through 2.5 sq. mm. 4 core armoured copper cable through 25 A TPN switch fuse unit.
The sufficient quantity of product and packaging film rolls are to be made available for pre-dispatch acceptance trials of the machine ON FREIGHT PAID Basis.
The product feeding to the hopper of to achieve consistent output & accuracy will be in the scope of buyer.
The services of our commissioning team will be of supervisory nature. You shall make
the required labour, tools and tackles available.
Salt Packing machine Supplier Low Price
We are pleased to offer you commercial offer in following lines:-
WE NEED SAMPLE PRODUCT & PACKAGING MATERIAL PRIOR TO MACHINE DISPATCH FOR MACHINE TRIAL AND TESTING.
Trust the offer is inline to your need and look forward to receive your valuable order