Salt Automatic Packing Machine
The devices include weighing scales, motorised batch printing, eye mark sensors, and a telescopic disc arrangement to increase and decrease volume. The film-roll unwinding system is motorised, and the motor is electric/hydraulic. It has a perforation mechanism that helps you to build a pouch chain.
Thanks to the Supper Power Pack System, machines, and integrated packaging solutions, manufacturers can package various quantities of salt up to 10kg in a variety of pouch formats that are hygienic, leak-proof, and simple to store. In addition to preserving the contents, these pouches help the manufacturer's brand stand out on the store shelf and compete in the global market.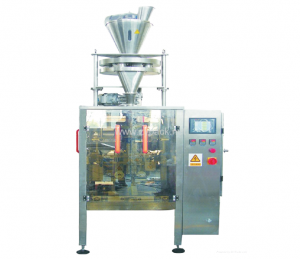 Technical Advantages :
Low cost high gain, high speed and efficiency
PLC control system
Film drawing down system
horizontal sealing controlled by servo motor minimize the loss with complete automatic
warn protection function
The feeding, measuring, filling, sealing, date printing, charging (exhausting), counting and food product delivery are all finished when it equips with feeding and measuring equipment.
Specification :
Model ASTRA -90
Bag Size (L)50-260mm
(W)60-400mm*
Bag Speed Max.100bags/min
film width 420mm
Air consumption 6 to 8 Bar
Power supply 3.5kw, 220V 50/60HZ
Packed Dimensions (L)1300*(W)960*(H)1150mm
Application :
Suitable to pack coffee bean, seed, sugar, salt, spice, potato chips, puffed food, jelly, pet food, snacks, gummy, etc.
Optional device: Filling nitrogen device, gusseted device, punching jaws, chain bag device, PE film device, venting device.
Supper Power Pack System :
Supper Power Pack System manufactures vertical continuous motion sachet machines, vertical intermittent sachet machines, and horizontal sachet packaging machines to quickly find a solution for its customers' pouch application needs. As one of the leading Salt Automatic Packing Machine manufacturer in India, you'll have the best solution for sachet applications with up to ten lines for high capacity and needed fillers like multilane auger fillers for powder products, multilane liquid pump fillers for liquid products, and rotary fillers for any kind of granule product.
If you are looking for Salt Automatic Packing Machine in India, Supper Power Pack System will be the right choice for it. For any query or details feel free to contact us