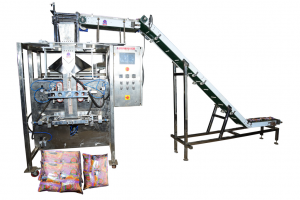 Outer Packaging Master Bag Packaging   
  Primary and Secondary Automatic packing Machine  
Model – Astra-95,
Primary and Secondary Automatic Online Packing Machine, I want to tell you something about this machine. Secondary packing machine is a very advanced technology. It has such a wonderful technology of , this machine that you can run this machine comfortably.
I would like to tell you how to pack about this machine. Tak of conveyor is located in front of your primary automatic packing machine, there is a middle conveyor in front of it, there is a fast conveyor in front of it, after which counting mechanism remains In which the technology is equipped with a pouch counting machine, from this machine you will be able to collect any bunch of 5 bundle 10 bundle 15 bundle 15 to 20 pouches between any of you count The sachet pouch packs in the machine which can be packed in the machine. The pouch pack in this machine stays in a standalone type. The technology of this machine. After we researched Germany and Japan, we found that secondary Machine Develop,  About this machine it is called a robotic system.This machine works like a robotic system.
that you also develop this secondary technology and there is a lot of demand in the market of this machine and in India too there is much more labor cost coffee in the world and this secondary packing After applying the machine, the need for the power of the man decreases. After the machine is installed, the method of packing would be very simple. Land and which are also of packing it so you will be very good, we did it develop the machine and its cost India and the outside is very little that we machine is developed in a low segment machine single stage and stage two Can be packed up to 20 kg of this machine's capacity.