Chin Chine packing machine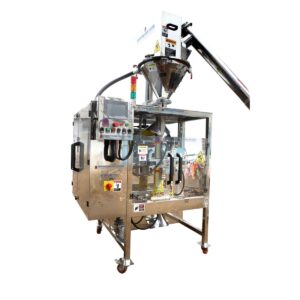 Rice,Sugar,Beans,Tea,Granules, Seeds,Namkeen,Kurkure,Popcoren,Puff
Note (This is our low segment machine, which is made by an economical price, this machine has been made, if a customer does not have much budget, then we are able to organize this machine, but running this machine slightly is a bit complicated because some things off in it The line is connected to the set-up, we can not support you more online in this machine because some of its systems are off-line set up,
Machine is very easy to fix any kind of problem, how much sealing you have to do, when to frying, when sealing, date batch code when printing machine is printed, you can set it on display There is no mechanical problem in this machine, because this machine is an advance weight, which is considered as the best machine for Chinese machinery and India. What I can do on this product in this machine, I tell you,
It is suitable for automatic packing of various types of grain like candy, confection, chocolate bean, peanut, bean, tea, spices, rice, snack, seeds, small toys etc.
Second. Technical facility
To make the machine run stable, PLC we have installed the Schneider Company, this company is operated from France, to facilitate the operation, the Schneider Company's touch screen.
Electronic spare parts are used by the Schneider company, we have a sophisticated design on the pneumatic control system and machine with high accuracy, reliability and stability.
The control of paper travel is from the VFD drive Schneider, which controls the film smoothly, easy and at a precise speed to determine the length of the bag.
Filling machine, filling in it, when it is a filing system, it includes hot file interfaces for date and printing
5.PID control adopt intellectual temperature controller acurease, temperature is controlled to ensure clean seal.
The machine manufactures pillow bags, punching bags, linked bags.
Measuring Mode- Volumetric Cup Filling
8 .  Measuring Rage – 100gms to 250gms &   500gms to 1000gms
Bag Type –  Center Seal
Film Material – Composite film/non-woven fabric/paper-plastic film
Machine speed – 10 to 25 per mint
Bag Size – Length)30-250 mm  (Width) 100-400mm
Voltage – AC420V Three –phase,
Net Weight –  300KG    Gross weight :350kg