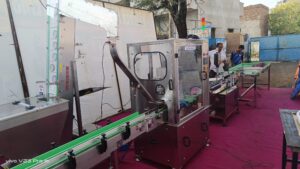 6 Head Automatic liquid volumetric filling machine with 6' long conveyor.
Auto linear filling type machine Astra-36 model.
Output – The output of the filling machine is 20 to 30 BPM as per product sample & fill size.
No bottle no filling system to avoid spillage will be provided.
+. – .1-2% filling accuracy on single dose.
Filling range is up to 1000 ml.
Technical Specification ….
A) Main motor 2 HP 3 phase  HINDUSTAN MAKE WITH 50:1 SIZE 3" ELECON MAKE GEAR BOX
B) Conveyor 6' LONG WITH Drip Tray ½ HP Gear Motor 3/ phase, VF49 GEAR Box BONFIGLIOLI.
C) PANNEL BOX ELECTRICAL Control with Delta VFD control MS 300.3Ph.
D) SS 304 NOZZLE & SYRINGE 1000 ML capacity.
E) Machine Frame IS M/S WITH SS 304 CLADDING, CONVEYOR IS SS 304
F) MACHINE FRAME SIZE 2.5'x3' x6' long.
G) MOC IS 304
H) Food grade steel braded pipe provided to the syringe.
We assure that our machine will certainly help you to improve the quality and maximize your production