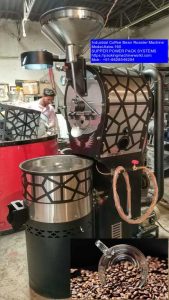 Astra-160 Special Machine For 10kg  Coffee Roseter Machine 
Industrial  Coffee Beans  Roaster Machine  Manufactures  .
the roasting cylinder is bubal  walled and specially insulated. Fixed with special warm type 'leaves' for uniform roasting of coffee in the stream of hot air. All levers and fittings are chrome plated. A temperature meter, sampler and sight glass is fitted on roasting drum for close monitoring of roasting process.
Required power 1 HP+0.5 HP+ 0.5 HP+0.25HP motor.
The roasting drum is driven by a chine sprocket mechanism roasting duration of 15-20 minutes per batch.
Namely we are using MS drum .
If u need MS  Drum we can provide u but cost will be extra ,/-
 2.Burner assembly :
specially designed L.P.G gas burner with control valve gives uniform heating.
3.Cooling car:
Fabricated in M.S & stainless steel. Fitted with" cooling leaves" which is shaft driven by a gear wheel. A blower is provided to exhaust the hot air and coffee dust and for fast cooling.
4.Cyclone pipe :
The smoke & dust blower is connected by flanges to the cyclone by pipe. The cyclone has a husk discharge door and smoke outlet pipe to chaff collector box.
Production of machinery:
10kg batch one batch time 15-20 min,
Coffee moisture must be 10-12% only.
Capacity Per hour 30 to 40 kgs.
Magnetic plate:
We will provide magnetic plate for cooling pan for magnate the foreign materials like metal picas.