Ginger powder Packing Machine Herbal Soup Mix packing machine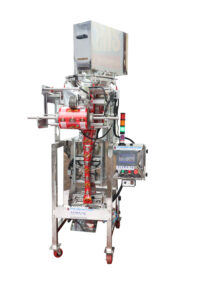 Machine For Spices Powder You can pack from the same machine from 10grams 15gms to 25gms ,To  50gms  100gms to 500gms   from the same machine
Powder Automatic Packing Machine With this machine you can pack all kinds of dry powder,
Fine powder in which 6% should not be excessive moisture, PSI what can be done on you, in this time we make the machine Accuracy in weight, and the machine runs comfortably. In the time of making the machine, What is the problem, all those things have worked carefully, the most discussed in the world is about the machines of Japan and Italy, we pay attention to Germany and Japan This advanced machine is manufactured in Germany, because Germany and Japan have very high prices, its small industrial cannot be installed, then we made this machine low cost, you have to make more of this area No need, and you can pack the powder from 50 grams to 500 grams of machine, I want to tell the name of that product to you.
You can pack pouch. This machine has a programming logic control system, it is very easy to run the machine, it is very easy to understand the machine, it is very easy to control the machine, this program logic controller The system that is also connected to the Internet, you have any problems related to programming, you have installed an Internet connection in it, Direct is connected to our control room. That will be the maintenance of the machine, how much the machine has been working, all the data of the machine will be found in our system, so that you will get the next date of Next Maintence, it will come to your screen, the parts we take in this machine It is a job on CNC machine, such a technology in such a small machine, you will not find anywhere else, we have created this machine for small industrialists, then small and small The AD he can rest the machine, much of the machine is no Cost, you want to make a small business, it can mini packing machine by starting a business;
Machine speed
       12 to 50 per mint
Bag Size
     (Length)30-250 mm  (Width) 100-360 mm
Film Material
       Composite film/non-woven fabric/paper-plastic film
Net Weight
       400KG                       Gross weight :450kg
Bag Type
       Center Seal
Notch
       Applicable
Voltage
       AC420V Three -phase
Total Power
       4.KW
Measuring range
        5gms 100gms , 50gms to 500gms
PLC
         Schneider
Measuring Mode
        Volumetric Auger filler ,
HmI Display
       Pepper + Fuchs
Machine Material
       Mild Steel
         Base France
Motor
       Preumim
        Base India
    Heater
       marathon
          Base India
Solid-state relay
        unison
         Base  India
Intermediate relay
       india
         Base India
Buttons
        Schneider
          Base France
Penumatice
         festo
           Base Germany
 Sensor
       Pepper + Fuchs
            Base Germany
     Output ; 20Up 50 Pouches/ Per Mint
Full Features and Functions :  
A)  This machine can be able to weight, bag-making, filling, sealing, cutting,lot number automatically.
B)   It has color control system which can get the complete trade mark design( photo electricity control system).
.C)  Fine packaging performance ,low noise ,clear sealing texture and strong sealing performance.
D)  With safe plastic box on rotating blade to avoid hurting operator's hands.
E)   Operation manual will be delivered to the clients with machine
F)   Tenure of Use: 15-20 Years
G)    With Schneiderriginal PLC control system, makes it very good stability, good
use, and durable in using time .
H)    With Color Touch Screen , HMI,Which makes it very easy and convenient operation.