Cost of Setting up a Packaged Drinking Water Filling Plant A to Z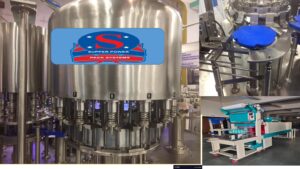 High Quality SS 304 Small RO Water Treatment Plant , 2000LPH  GPD RO Water Purifier Machine
➢ RAW WATER STORAGE TANK ()
➢ RAW WATER PUMP
The Raw Water Would be Pumped To The MSF, ACF, And MCF By Means of a Raw Water
This Pump Will Create the Minimum Head Required For The Multi-Grade Filter Pump
To Boost The Water.
➢ MULTIGRADE SAND FILTER
The Raw Water From Its Source Will Is Directly Passed Through The MSF to Remove
Suspended Solids From The Same. The MultiGrade Sand Filter Will Be Designed For a Filtration
Velocity of 19-20 m/hr for Efficient Filtration
➢ ACTIVATED CARBON FILTER
The Raw Water From Its Source Will Be Directly Passed Throught The ACF to remove Chlorine,
Color & Odor From Raw Water. The Charcol Filter Will Be Designed For a Filtration Velocity of
19-20 m/hr For Efficient Filtration.
➢ ANTISCALENT DOSING SYSTEM
It is Processed to Dose Special Food Grade Antiscalent in the Feed Prior to the Cartridge Filter
for RO System to prevent saturation of various organic salts especially Silica on RO membrane
surface on concentration.
The features of this Anti scalene are:
ASTRA-25 TECHNICAL SPECIFICATION
Products to be packed
Packaged drinking water bottles, CSD, Boxes, etc

(All Rounder)

Packing Speed

Product Variations

5 packs/min approx. 60 Bpm

Matrix: 3 x 4 = 12 bottles

(depending upon operator speed) 500, 1000, 2000 ML

Width of Sealing Knife
26 inches
Sealing Knife Design
EN8 Material, Teflon coated Unibody Design
Tunnel Conveyor
Woven Mesh Conveyor with Chain Drive
Speed variable through VFD
Tunnel Chamber (customized)
Opening 20 x 15 inches Chamber length – 48 inches
Discharge Conveyor
Idle slip rollers below cooling fan
Operation Cycle
 operated cycle for easy maintenance
Standard Machine Feeding Height
Approx. 30 inches
Machine Structure
Complete heavy-duty MS square pipe body
Contact Parts
Stainless Steel
Guarding / Covering
Sheet-metal covering around tunnel body
2 Cavity Semi Automatic Stretch Blow Molding Machine
            900Bottle per Hour
                    High Speed Semi Automatic Bottle Blowing Machine with Accessories.
We would like to introduce ourselves as
Manufacturers of machinery for Food and Beverage Industry
               MACHINE FEATURES:
Our machine has simple innovative design and ultimate energy saving. It is engineered for
                efficiency and maximum production speed
     Blowing Toggle System for Easy and Lesser Mould Changing Time (Max.10min).
Incremental Heater Settings by 1% to 199% for Accurate Pre-form Heat Setting.
Air & Water Lines are Push & Pull System for Easy Maintenance.
Long Life PU Seal Cylinders and Higher Accuracy Valves used for Low Pressure Control System.
IP67 Grade Sensors used for Higher Accuracy & Long Life.
Advanced PLC Based System with 7" Multi colour HMI Unit used for Easy Man Machine Interfacing and Higher Machine Performance.
Multiple Products Like Mineral Water Bottles, Carbonated Soft Drinks Bottles, Hot Fill Juice Bottles at Low Investment.
Machine Can Store 20 Mold Recipe Parameters so it helps to reduce Mold Changing Time.
           High Productivity with Low Power Consumption.
          Easy operation & Easy maintenance.
          Production Display with Man Machine Interfacing Facility. The multi color touch screen display is used to graphically view all the parameters.
Compact Structure and low maintenance cost.
Online automatic 3 line ink jet coding machineVideojet® 1240

Ownership and usability are made easy with the Videojet 1240 continuous

inkjet (CIJ) printer. The Videojet 1240 CIJ printer has been designed to be simple

to operate and maintain and is ideal for customers who are looking for the

maximum functionality for the best upfront cost. This CIJ printer provides stable

performance and reliability across a broad range of operating conditions

Rinsing Head –8 Nos
Filling Head -8Nos
Capping Head-4 No
Bottle Size Range-300 ml to 1500 ml
In-feed Air conveyor (Meter/Feet) -1.5 Meter /5 Feet
Out feed SS Slat conveyor (Meter/Feet) -5 Meter /15 Feet
Machine Type-MechanicalASTRA-23 Automatic R/F/C-40 BPM Filling Machine  

This is in reference to your requirement of ASTRA-23 Automatic R/F/C-40 BPM Filling Machine. We are pleased to furnish herewith our offer.

This Offer covers Following:

Description of the machines
Machine Operation
Technical Specifications
Layout
Price
Commercial Details
General and terms &Condition

| | |
| --- | --- |
| Gross Capacity | 40BPM |
| Working Capacity | 40-55 BPM's |
| Contact Parts | Ss 304 |
| Non-Contact Parts | Ss 304 |
| Motors | Siemens, Rotomotive |
| Gear Box | Elecon,Rotomotive |

Special Features :-
v  Mono Block Rotary Machine.
v  Neck Holding.
v  No Bottle No Rinsing No Filling and No Capping.
v  Non-contact Sensors for Bottle Count.
v  Separate Cap Hopper Having Capacity 2000 Caps.
v  Material of Construction SS-304.
v  Special Mechanism of Clutch Systems.
v  Rotary on Cam and Spring Base mechanism.

 

DESCRIPTION OF MACHINES:-

 

                      ASTRA-23 AUTOMATIC RINSER,FILLING& CAPPING MACHINE:-40 BPM

40-BPM Stands for 40 Bottle per minutes(2400 Bottle per Hour)