Cooking Oil Packing Machine Edible Oil Filling Machine Manufacturers Factory Price 2023 Nigeria Spain Poland Brazil Mexico
Supply & Erection of Astra Automatic Form, Fill & Seal Machine to pack / fill free flow liquids like Milk, Mineral Water, Soft Drinks, Ghee, Edible oil, Honey, Ginger garlic paste, Sauce, pickles, Juices, Pharmaceuticals, Automobile Industrial oil, Syrups, Shampoo, Laminated poly pouches.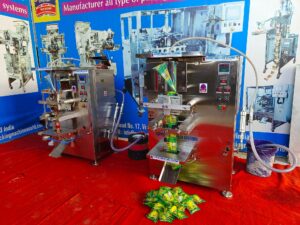 TECHNICAL SPECIFICATIONS(Four Side Seal)
Model                                      Astra-47
System                                   : Mechanically operated Automatic Form, Fill & Seal Machine
Product                                    : Liquid
Film size                                  : 220mm to 230mm,
Film Thickness                        : 60 and above microns,
Film material                          : Laminated,
Sealer heating system             : Continuous,
Filling Capacity                       : 50ml – 200ml,
Fill Accuracy                           :  +2ML,
Fill Speed                               : 25 Pouches per minute
Seal Type                              : Four Side Seal.
Pouch length                          : According to print mark,
System of Operation               : T.C control,
Reduction Gear Box                    : Standard 30:1 Reduction Ratio (Greaves make),
Peak Power                               : 3Kw / 1Ø / 230 V AC, 50 HZ + 5%,
Power Consumption                  : 1.2 KW/Hr.
System Weight                          : 350 Kg's,
System Dimension                   : W x D x H (Approx.) 850mm x 1300mm x 1300mm,
Material of Construction                : All parts coming in to contact with the product ASI 304
Stainless steel and other are mild steel duly painted