Automatic oil filling machine best price in Uruguay,
4 HEAD FLOW METER BASE MACHINE.              : –
Filling Range             : -1000 ml to 5000ml
No of Filling Heads   : – 4X
Filling Mode                 : – Automatic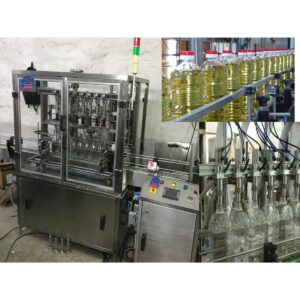 Versatile
Minimal adjustment required to set different capacities from 50ml to 200ml with varying containers contours. The entire range can be set on the same machine. Multiple Strokes can be set by the keypad for higher volume.
Operation of the machine
machine shall have its own header tank with level controls, which can be connected with main tank of the user or product can be pumped from the storage tanks. The volume to be filled is measured by the flow meter.
All settings can be done on the HMI (Human Machine Interface) keypad which is provided on the control panel.
 Speed: –
The estimated filling speeds are: –50ml @30 to 35 fills per minute
                                                       200ml@     250 fills per minutes
The above filling speeds are applicable for nozzles of 19mmf and container mouths of minimum 28mmf. Speed shall stand reduced for smaller mouth containers, product viscosity & foaming characteristics and temperature of product the time of filling.
The container should have 10% of empty volume space after filling the desired volume to get the estimated speed.
 Safety Device
Non-contact electronic sensors ensure "no bottle no fill" status to avoid spillage in absence of container.
Electronic controls
Reputed International make PLC for controls of various functions of the machine. Alphanumeric LCD display HMI (Human Machine Interface) to display various user friendly messages. Volume setting on touch key pad facilitates minimum changeover time. The preset values program are stored in nonvolatile memory.
HMI Display   :-100mm delta make
Change Over
Minimum changeover time while changing from one pack size to other pack size in the specified filling range as the machine do not require and change parts. The mechanical adjustments are provided on easy setting knobs and fittings.
 Nozzles                      : PNEUMATIC Nozzles with bottom close system to avoid dripping.
Flow meter                  :  VSE (Germany make)
No bottle no fill         : No bottle no fill as standard feature
Accuracy                    : +/- 0. 5% (by volume)
GEAR PUMP              : ROTO DELL 100 LPM 3 HP HINDUSTAN MOTOR
Product takesup       : From header tank.
Drainage tray             : below the conveyor for product/CIP process
M.O.C.                        : Constructed in SS-304, with heavy duty structures in mild steel with
S.S. 304 cladding. Contact parts in SS 304
Standard Accessories
Hopper/Buffer tank: 200liter capacity (approx.)
Conveyor:       6"X16 FEET long SS Slat conveyor as a part of machine 0.5 hp gear motor bonfiglioli .
Utilities Required
415 Volts, 50 Hz, A.C. 3 phase power supply
6 Kg Pressure compressed air 3 CFM
11/2" product pipe line
All above shall be provided within two meter vicinity of the installation.