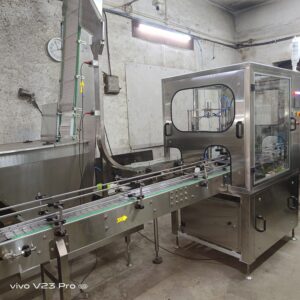 Automatic 1Heads Pick N Place Lug Capping Machine For Glass Jar Pet Bottle Automatic Pick & Place Screw Capping Machine
Automatic pick and Place LUG Capping Machine provides accuracy and high-quality assurance in bottle capping. This machine is precisely built on sturdy welded MS frame completely enclosing in stainless steel covering.
OPERATION
The capping machine has 3 stage operation. There is indexing star-wheel arrangement for the bottles toenter below the capping stations one by one. The cap is picked up from the delivery chute using a PNEUMATIC Pick and Place System and placed exactly on top of the bottle mouth the lug cap is then moved for second operation is executed using rotary cylinder with vacuum cap gripper for reverse and forward operation for cap to engage into the bottle thread, and then moved for final cap tightening operation mechanical head.
There is 'No Bottle – No Cap' interlock provided on cap delivery system. The bottles are detected by non-contact infrared sensor to stop the cap delivery. The capping is, finest quality precision component fitted with magnetic torque controlling mechanism. This eliminates heat generation which normally occurs in friction type coupling in the chucks. The caps are feed  toel evator. The capping torque can be set with the help of magnetic chuck holder accordingly in minimum amount of time and set torque is maintaine
TECHNICAL SPECIFICATION
Output                *                                              :               30 to 40 Bottles per Minute
Direction of Movement          :               Left to Right
Electrical Supply                        :              V AC, 50Hz, 3 Phase
Machine Base Plate/frame    :              M/S  Coated.
Cap Chute                                         :               SS 304
Head                                                    :               Magnetic Torque Controlled Jaw Type
Main Motor                                     :               Hindustan Make with Gear Box – 1 H.P.
Elevator                                          :              0.5 hp gear motor   bonfiglioli
Total Power Consumption   :               <2. hp