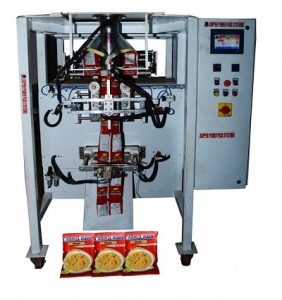 packaging machines for sale in Kenya
Astra- Machine-   With reference to the discussion we had over telephone, we understand you require a Vertical Form Fill Seal machine to pack 

. Our offer is as follows.

Pack Type:- Center sealed Pillow Pouch

ilm Type :- Heat Sealable Multilayer Laminate.

Accury :- +/- 1. of fill volume                                     

Speed :-  to 16To 18

 

 packs per min

 FORM FILL SEAL MACHINE HF

–          Pneumatic Type machine with coller.

–          Constant heat seal bars for sealing the horizontal seal and double draw for vertical seal. controlled Induction motor for film draw down by rubbarised belts.

–          make PLC with 7" colour touch screen HMI for controls.

–          Motors for film unwinding and trolley movement.

–          PID controllers for temperature control.

–          MS sq pipe structure with ceramic painting, with all contact parts in MS

–          With one set of forming size parts.