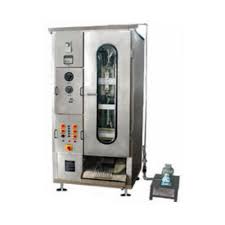 We at ASTRA-102, are a team of dedicated professionals manufacturing High speed continuous Sealing Machines (CSM) to Pack wide range of Viscous  Liquids like oil Vanaspathi, Ghee, Free Flow Liquids like Milk, Arrack, Soft drinks, Mineral Water and also Powders Granules  in Poly Pouches using the latest "PROGRAMMABLE LOGIC CONTROLLER" (PLC) System i.e., based on latest micro process digital technology which gives optimum accuracy and high reliable services which minimizes the maintenance time as the "Defects Data's" are shown on the display Screen provided.
Some of the highlights of ASTRA 102,   machine are as follows:
SPS best innovation is the introduction of continuous sealing & injection machines (ASTRA) for dairy sector, which replaces the pneumatic machines, which are costlier than mechanical system.
We accept the conversion of pneumatic machines in to mechanical machines for best results.
We fabricate our machines body and all contact parts using S.S. Material.
All spares are readily available at our factory maintained by our professionals to extend prompt after sales service.
Our credentials extend beyond experience, expertise and equipments to high – class development facilities at our works under a panel of select technicians and experts whose innovative skills and workmanship are aimed at focusing SPS machines as an indicator of quality and reliability. Here we are enclosing our technical details and quotation for the same.
Please feel free to contact us for further details and for your requirements
Thanking you and assuring you our best services and co-operation at all time.
TECHNICAL SPECIFICATIONS(Four Side Seal)
Model                                      : ASTRA -102,
System                                    : Mechanically operated Automatic Form, Fill & Seal Machine
Product                                    : Liquid
Film size                                  : 220mm to 230mm,
Film Thickness                        : 60 and above microns,
Film material                          : Laminated,
Sealer heating system             : Continuous,
Filling Capacity                       : 50ml – 200ml,
Fill Accuracy                           :  +2ML,
Fill Speed                               : 25 Pouches per minute
Seal Type                              : Four Side Seal.
Pouch length                          : According to print mark,
System of Operation               : T.C control,
Reduction Gear Box                    : Standard 30:1 Reduction Ratio (Greaves make),
Peak Power                               : 3Kw / 1Ø / 230 V AC, 50 HZ + 5%,
Power Consumption                  : 1.2 KW/Hr.
System Weight                          : 350 Kg's,
System Dimension                   : W x D x H (Approx.) 850mm x 1300mm x 1300mm,
Material of Construction                : All parts coming in to contact with the product ASI 304
Stainless steel and other are mild steel duly painted