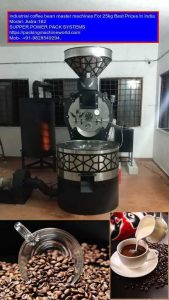 Proposal for 40kg-60kg / hour(20kg per batch)  out put Coffee Roasting Machine 
totally compact and ready to use equipment
ASTRA-162  Coca Beans roaster
1.roasting drum:
the  roasting cylinder is single walled and specially insulated. Fixed with special warm type ' leaves' for uniform roasting of coffee in the stream of hot air. All levers and fittings are chrome plated. A temperature meter, sampler and sight glass is fitted on roasting drum for close monitoring of roasting process.
Required power 1 H.P+1 HP+1HP+ 0.5 HP  motor.
The roasting drum is driven by a chine sprocket mechanism roasting duration of 15-20 minutes per batch.
Heating type: Half direct fire & fully hot blast.
 2.Burner assembly :
OXG series gas burner, gas burner for L.P.G. single stage operation on/off
We are using "OXG" series gas burner for above 20 kg batch coffee roasters burner specifications as follows
1.      Gas burners for Natural gas / L.P .G.
2.      Single stage operation ( ON / OFF).
3.      Compatible with any type of combustion chamber.
4.      Compact in overall dimensions.
5.      Gas valve selection available, soft start & fast star.
Digital temperature controller.       
Digital Temperature controller is an instrument used to control temperature. Temperature Controllers are required in almost all the industrial processes where temperature has to be kept constant to heat an object or to perform a certain processes. The device particularly came into existence to provide a constant temperature to some of the electro chemical processes. Temperature Controller is one of the most essential elements of every industry and machinery where temperature control and monitoring are required.
3.Cooling car:Fabricated in M.S & stainless steel. Fitted with" cooling leaves" which is shaft driven by a gear wheel. A blower is provided to exhaust the hot air and coffee dust and for fast cooling.
4.Cyclone pipe :The smoke & dust blower is connected by flanges to the cyclone by pipe. The cyclone has a husk discharge door and smoke outlet pipe to chaff collector box.
5. Production of machinery:
20 kg batch one batch time 15-20 min,
coca moisture must be 10% only.
Capacity Per hour 40 to 60  kgs.
6. Magnetic plate:
We will provide magnetic plate for cooling pan for magnate the foreign materials like metal picas.
if required drum speed and fan speed , speed adjustment frequency drive its cost will extra
each drive cost 35,000=00 ( Drum speed )
each drive cost 35,000=00 ( Blower speed )